At 'Wijkbedrijf Selwerd' (which stands for neighbourhood company of Selwerd, a city part of Groningen), local citizens work together and give each other a platform to start a company.
The community centre is run by local residents, and offers a restaurant, a garden full of vegetables, fruits and flowers, chickens, a second hand shop, a lunchroom and terrace, a day-care, a bench-making business and wood-chopping business, and there's always room for more.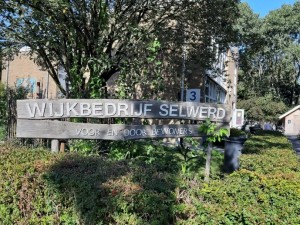 The city-part of Selwerd, located in the north east of Groningen, houses 80 nationalities. Many migrants from (Northern) Africa and Syria live here, as well as international students (from Germany, Spain, China and all over the world). This multicultural neighbourhood faces a lot of poverty, high language barriers and a lot of diploma's that are unfortunately not approved in the Netherlands with it's strict rules and procedures. But it also houses tons of ideas, potential and talent, and citizens are not always aware of that last one. Where migrants often roll into the standard work of cleaning and catering work, community company Selwerd shows these stereotypes to be very old-fashioned and limited, and there are many more talents to be shown. From a travel business for city trips for students (by a Sudanese woman), to local neighbourhood taxi (by a Syrian woman) and business that makes benches out of old wood and plastic, Selwerd has it all. There is even an exotic fish-farm right in the Dutch language-classroom!
Not all initiatives are successful of course, and manager René says they have to be realistic about that. "If you have been working on your business for years and still can't take that next step, sometimes it's time to quit and look for chances elsewhere."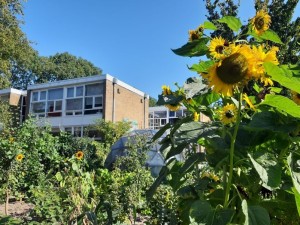 A lot of migrants in this neighbourhood have a high education in their country of origin. They are cum laude psychologists, economists, surgeons, apothecaries, and so on. But their diplomas are not valid here, and the language barrier makes it very hard to succeed in the labour market. Community company Selwerd offers anyone with an idea, ambition and a plan the chance to get their business of the ground, right in their own neighbourhood. That makes for a motivating environment, where you can combine your strengths with your fellow neighbours and learn from each other. It gives people a feeling of opportunities and new chances.
What are the success factors of this local neighbourhood company? Most of all, it's the low threshold to join. Your fellow residents will come to your door, invite you for a cup of coffee and before you know it, they give you the feeling, that you as well can start a business if that has been your dream for a long time. The next step is facilitating. If you want to begin a restaurant, you need a professional kitchen, which is exactly what the community company can offer you. An incubator for entrepreneurship and a place that feels like home, run by your own neighbourhood, that is exactly what they are creating in Selwerd!