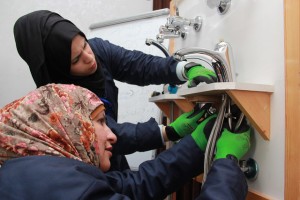 UNCTAD, IOM and UNHCR held a joint photo exhibition on 18 November 2019 at the Palais des Nations in Geneva showcasing the contributions of migrant and refugee entrepreneurs to the development of their host communities and communities of origin.
The exhibition of 30 photographs also provided the occasion to exhibit the collective sculpture of artist Romain Langlois, created in collaboration with twenty migrants and refugees in France.
Inspiration By Imene Trabelsi, October 2019
Jamila is a 26-year-old Yazidi entrepreneur in Chamishku IDP camp, Iraq. A year after she and her family arrived in the camp, she managed to open her own beauty supplies business and is now able to make a decent income to support for her parents, seven brothers and sisters and four nephews and nieces. Jamila is also a source of inspiration to many other women in the camp.
Man's Job? By BDC Jordan, February 2017
Amal, a Syrian refugee, learned plumbing – traditionally considered a "man's job"- out of necessity. She is proud to help train other women with similar backgrounds to benefit from what is now her career.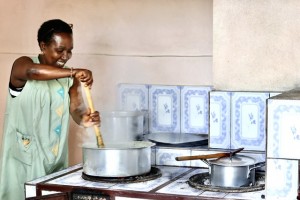 Becoming a Chef By Sanne Biesmans, October 2019
Claire fled her home during the Rwandan genocide in 1994. She moved to Bukavu, Democratic Republic of the Congo. She tried many things and failed, before deciding to follow her dream of becoming a chef. She bought pots and pans and opened a small restaurant. She recently opened a second one and is now employing 17 people.
To read more follow the link:
https://unctad.org/en/pages/newsdetails.aspx?OriginalVersionID=2240